Bearded vulture in Gredos, a new female adds to the two birds released last year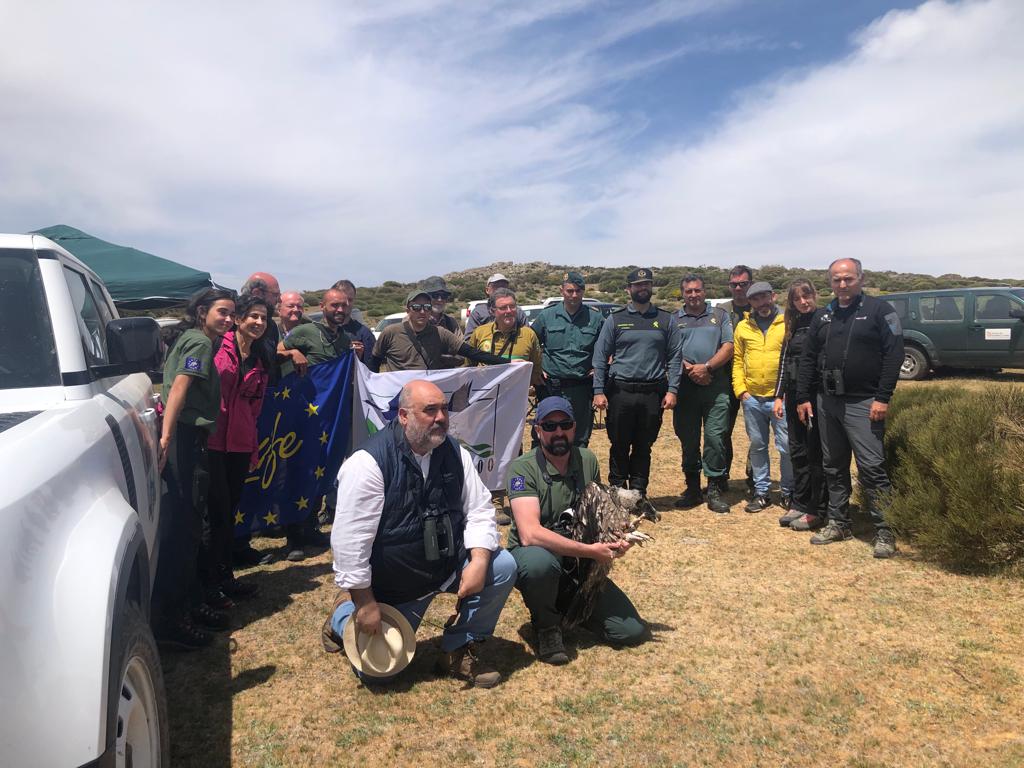 A female named Benemérita will soon join the two birds already flying free in the Sierra de Gredos, Risco and Galana. This Tuesday, he underwent a veterinary check-up and passed to the 'adaptive hacking' platform.
Last Tuesday, May 16, the first of the three bearded vultures that will be released during 2023 arrived at the hacking facilities in the Sierra de Gredos Regional Park. On this occasion, it is a female named Benemérita by popular vote and born last February, in the Center for Breeding in Human Isolation (CRIAH), owned by the Government of Aragon and managed by the Foundation for the Conservation of the Bearded Vulture in Pastriz (Zaragoza).
Native to the Aragonese Pyrenees, it is part of a comprehensive program for the recovery of the Bearded Vulture under the LIFE Pro Bearded Vulture project (LIFE20/NAT/ES/0001363). This LIFE project, which will run until 2026, is co-financed by the European Commission, the regional governments of Aragón, Asturias, Castilla y León, Cantabria and the Ministry for Ecological Transition and the Demographic Challenge through the OAPN and Endesa.
After completing its acclimatization period in the hacking (approximately 30 days), this specimen will become part of the Sierra de Gredos stock, joining the two specimens released in 2022, Risco and Galana.
The bearded vulture is considered one of the most endangered species in Europe, included in Annex I of the Birds Directive, in Annexes II of the Bern Convention, the Bonn Convention and the CITES Convention, and listed as a species of In danger of extinction'. at the national level.
The presence of the bearded vulture in the Sierra de Gredos is well documented, there are several citations and observations of the species until the 1950s when it became extinct, as in other mountain ranges such as the Picos de Europa due to poisoning and hunting. These were the main reasons why the bearded vulture population was reduced in the middle of the 20th century to approximately 30 pairs located in the Pyrenees.
The recovery of the bearded vulture in the Central System is a medium-long term project, in which multiple actions and several years of continuous work are necessary to achieve a stable and self-sustainable population of bearded vultures. This project aims to create a strategic nucleus to improve connectivity between the different populations already existing in the Iberian Peninsula and to recover, through the return of species, the biodiversity lost over the last century, increasing and strengthening the existing ecological pyramid in the Sierra de Gredos.