The arrival of 'Lesly' and 'Europa' brings to 42 the number of bearded vultures released in the Picos de Europa.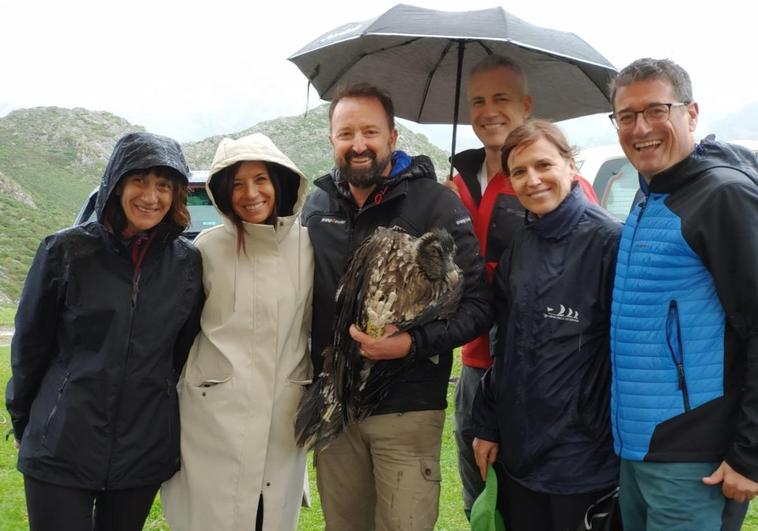 La fundación y Red Eléctrica impulsan un plan para instalar dispositivos en 160 kilómetros del tendido con los que evitar accidentes de las aves.
A new campaign for the reception and release of bearded vultures starts in the Picos de Europa. Two females arrived yesterday from the National Park of Ordesa and Monte Perdido: 'Europa' and 'Lesly'. The Foundation for the Conservation of the Bearded Vulture (FCQ), in charge of the reintroduction project, explained that the name of the latter is a "tribute to the Colombian girl recently rescued in the jungle with her younger siblings". With 'Europa', on the other hand, they try to make visible that the "bearded vulture is one of the most endangered species of this continent". In the Picos, they recalled, the species "disappeared in 1956". Since 2010, "when the first new specimens were reintroduced", 42 have been released by the foundation. In the case of the new arrivals 'Lesly' and 'Europa', after undergoing a veterinary check-up yesterday by Juan Manuel Blanco, they were installed in "an adaptive hacking platform, where they will acclimatize to the environment for a month". Once they "have completed their development and are ready for life in the wild" they will be released, "as well as the male that recently arrived in the Picos de Europa" and "will become part of the wild stock of the species" in the national park, "where 28 specimens currently live," they explained. Beyond the reintroductions, the first successful breeding occurred in 2020. "The arrival of these two chicks in the Picos de Europa is the result of decades of dedication by numerous public and private agents who are making a joint effort to reintroduce the species and mitigate the threats that put it at risk," said Gerardo Báguena, vice president of FCQ.
The name 'Lesly' pays "tribute to the Colombian girl recently rescued from the jungle with her siblings".
The event held yesterday in the Picos was also attended by Beatriz Corredor, president of Red Eléctrica, a company that collaborates with FCQ in the "protection of birdlife". "It is a priority that the transportation network and birds coexist in harmony. Therefore, when we design the lines, we avoid areas where birds are present and fly. And when this is not possible, we place bird guards that make them more visible and prevent accidents," said Corredor. The FCQ also explained that Red Eléctrica "is implementing this year a special plan for the Bearded Vulture that involves signaling 160 kilometers of lines that run through the areas where this bird lives," such as the Picos de Europa, Pyrenees, El Maestrazgo and the Sierra de Cazorla. In addition, "another 46 kilometers of lines in areas of critical risk for birdlife" in Asturias, Aragón, Cantabria, La Rioja, Navarra and León have been marked.
Source:
https://www.elcomercio.es/asturias/oriente/llegada-lesly-europa-eleva-quebrantahuesos-liberados-picos-20230614014849-nt.html